Magfest Ireland – Speakers Announced
WEDNESDAY 11 APRIL 2018
Mansion House, Dawson Street, Dublin 2
Natasha Christie-Miller, CEO, Ascential Intelligence
A lesson in transformation: Ascential's journey from b2b publisher to global specialist information provider
Natasha Christie-Miller leads the digital intelligence brands WGSN, Glenigan, Groundsure, Planet Retail/Retail Net Group, DeHavilland and world-class content and events brands Retail Week and World Retail Congress. She is building these core, high growth products in scale industries delivering high value intelligence and connections for our powerful, professional audiences.
She started her career in sales and led the commercial teams on consumer brands such as Elle, Red and the Emap parenting portfolio before taking on the role of Publishing Director of Drapers, the fashion industry bible at Emap B2B in 2005. She then became Managing Director for the Retail portfolio in 2007. Natasha was appointed CEO of EMAP in 2010 and a divisional CEO at Ascential in 2015.
Natasha is also a Director of the Professional Publishers Association, and a non-executive director of Proven Growth and Income Plc.
Paul McNamee, UK Editor, The Big Issue
The Big Issue – the history of a publishing revolution. And how to keep it relevant today.
Paul McNamee was appointed UK editor of The Big Issue in summer 2011, the first time The Big Issue had a single editor across all national and regional and online editions. He is currently the Chair of PPA Scotland. He started out on local newspapers in Northern Ireland, before co-founding Irish music magazine Blank with Colin Murray. He moved to the NME in London and following four years there he began working for a number of newspapers and magazines, amongst them the Daily Mirror, The Guardian and The Irish Times. He has been named Magazine Editor of the Year three times by PPA Scotland and was named British Editor of The Year in 2013 and 2016 by the BSME (British Society of Magazine Editors). He is a regular voice on BBC radio, particularly in Scotland.
Andy Cowles, IPC Media Creative Director
GOOD DESIGN IS GOOD BUSINESS

Multi-award winning creative director Andy Cowles on why you need to show, not tell. He'll be sharing tips and trends on generating impact, increasing engagement and delivering more with less. An accomplished creative development director, with an exceptional track record. Successful at creating and reinventing powerful identities for brands in the UK, America and Australia. Fluent at producing and presenting highly compelling content and events, for just about every audience. Nine years as creative and editorial development director for IPC Media, now Time Inc. UK. Art director of Rolling Stone and creative director of Mademoiselle in New York. Winner of the BSME Mark Boxer award.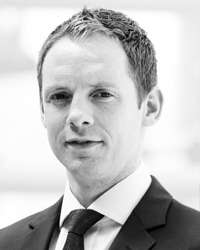 GDPR. What is Consent?
Brendan Gavin, Senior Associate, Corporate, Byrne Wallace
With the deadline for GDPR compliance approaching fast, Brendan Gavin, Wallace Byrne joins us to provide a quick fire comprehensive update on the changes to consent and what publishers need to do to obtain consent under GDPR. Brendan will be focusing on three key areas of concern for publishers:
The relationship between GDPR and consent
The transparency required to comply with GDPR
An update on e-privacy regulations and what this means for you
Brendan Gavin is a Senior Associate specialising in corporate law and member of the firm's GDPR team. He advises on corporate transactional matters as well as specialising in technology and intellectual property matters and has extensive experience in data protection. Clients include companies at all stages of development – from start-ups and entrepreneurs, to mid-cap and scaling companies, to large domestic and multinational organisations, from a range of sectors including technology, energy, retail, food, hotel, medical devices, but in particular from the technology sector.
Trevor Carroll, Manager, Content Partnerships, PressReaderCONNECTING WITH THE 'ME FIRST' GENERATIONS
Yes. That's generations. With an S. More than one. All of them, really. When it comes to publishing – just like with anything else – everyone expects a personalized experience. They want choice. Not just in what they read, but in how they get it. Where they get it. When they get it. But that kind of shift in the way people consume isn't new. It isn't far in the future or coming soon, either. It's now. It already happened. We're living it. That's why we have to shift, too.Let's explore how other industries have created personalized, curated, custom experiences. Let's talk about the kinds of decisions our readers are making and how we, as an industry, might capitalize on them. Otherwise, we can keep doing exactly what we're doing. That's our choice.
BOOKINGS
To book your place at magfest Ireland go to
https://www.eventbrite.ie/e/magfest-2018-tickets-42672531691
THE SESSIONS
We start with the magfest Lunch at 1pm; the magfest Business Sessions are at 2pm; and we finish with a magfest Cocktail at 5pm
CONTACT
magfest Ireland is organised by Magazines Ireland. For more information about the event, our speakers, sponsorship and exhibitor opportunities, please contact Magazines Ireland's CEO, Grace Aungier 00 353 1 667 55 79 or grace@magazinesireland.ie
Twitter: @MagsIRL and #MagFestIRL
Facebook: @magazinesirelandassociation
Website: www.magazinesireland.ie